The perfect evening escape
Where Wellness Meets Wanderlust™
Enjoy Evenings at Glen Ivy. The night sky and warm summer nights are the same but the entertainment has a whole new vibe. From world music duos to acoustic guitars, wine tastings to special events, this is your chance to cool off, wind down and, very simply, relax your soul. Check back in the Spring for our Summer 2024 lineup.
Our 2023 Featured Entertainment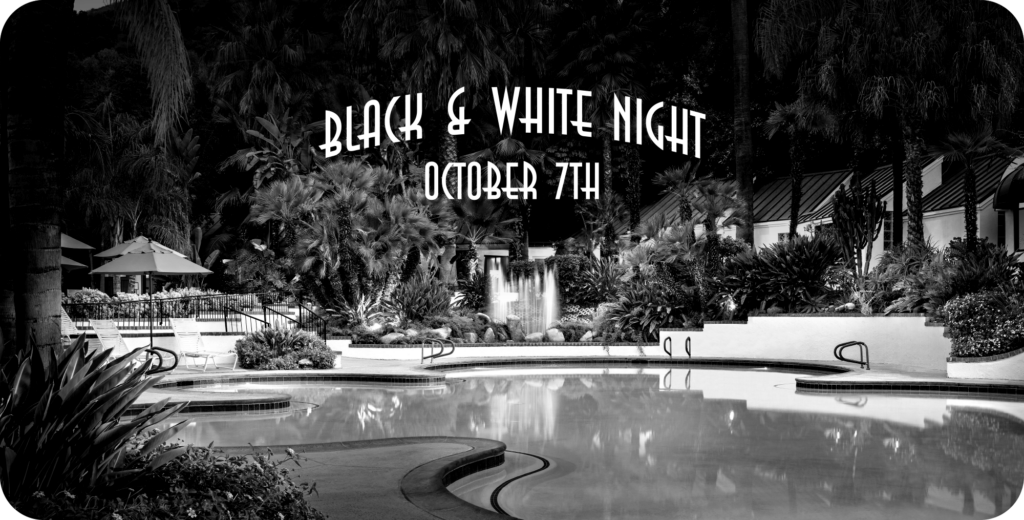 Saturday, October 7 4:00pm – 9:00pm
Enjoy a very special Black & White Night at Glen Ivy Hot Springs. Take a step back to the glory days of Hollywood with this themed evening. This special night includes:
Complimentary cocktail reception, passed hors d'oeuvres:  4:00pm – 5:30pm Lounge 1860 & Sauna Court
Piano stylings: 4:00pm – 7:00pm Lounge Pool
Synchronized swimming performance by Hollywood's own Aqualillies: 5:30pm Lap Pool
Dinner: 6:00pm – 8:30pm Ivy Kitchen
Screening of Casablanca: 7:30pm Lounge Pool
Black & white attire recommended.
$145/person inclusive
Grotto services available $30 (regularly $40)
Please call 1-888-GLENIVY to make your reservation today.
A veteran of the Southern California music scene, Jason Weber has been playing the saxophone for over 30 years. Originally hailing from the Chicago area, Jason has 11 CDs under his belt as well as numerous guest appearances on other artists' recordings. His versatility allows him to perform virtually any style of music in any setting including Jazz, Rock, Funk, Pop, RnB, etc. 
Sound Bath – Most Sundays Throughout The Summer
A sound bath is a meditative experience where those in attendance are "bathed" in sound waves. These waves are produced by various sources, including healing instruments such as gongs, singing bowls, percussion, chimes, rattles, tuning forks, and even the human voice itself. Held on the Secret Garden deck and led by self-care practioners Anthony Espanet and Marsha Pacificar. 
Kenny Rice – Saxophone
Casey Jones Steel Drums – Island music featuring steel drums
Mario Marauak – Brazilian guitar duo
Jimmy Dale Duo – Surf reggae
John Tidwell – Latin fusion guitar duo
This place is always relaxing. Wether I go alone or with a group I have a great time. I had the best facial of my life by Sage in the salon. I cannot say enough wonderful things about glen ivy.
Enjoyable, relaxing and inviting oasis. Highly recommended during the winter months. Feels like you're on an island of your own. The mani/pedi services are wonderful.
Went here and loved it had a wonderful time for a family friend's birthday celebration. The staff was warming and all essentials were great. Definitely enjoyed all the amenities.
Penny and I had a great time today, Partaking in the hot medicinal Springs, cold tub, swimming pool, showers, and just the great vistas. I recommend it to everyone who wants to get away for a relaxing day.
Beautiful place to spend Mother's Day! My daughter took me and we enjoyed a 50 minute massage, a Grotto, and had a wonderful lunch with our own personal service and really enjoyed the various pools. Beautiful! Can't wait to return!